Additional
HM Inspectorate of Prosecution in Scotland (IPS) comprises the Chief Inspector, Assistant Inspector of Prosecution, Legal Inspector, Business Inspector and a Personal Assistant. As of 31 March 2022, the staff of IPS was 4.4 full-time equivalents. The current Chief Inspector, Laura Paton, was appointed in 2019 to serve a three-year term. In 2022, she was re-appointed for a second three-year term.
IPS and its staff are independent of COPFS. Our staff are not involved in any activity relating to the operation of COPFS. While some staff are seconded from COPFS to work with IPS on a fixed-term basis for their expertise on prosecution-related issues, when at IPS they are under the direction of HM Chief Inspector of Prosecution.
IPS is funded by the Scottish Government. The relationship between IPS and the Scottish Government is governed by a Memorandum of Understanding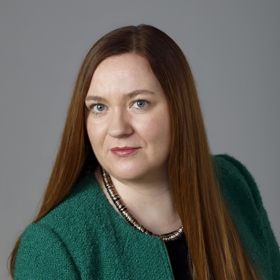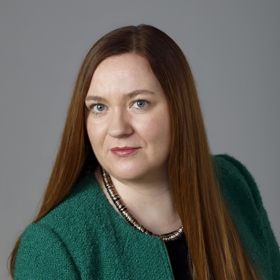 Laura Paton, HM Chief Inspector
Ms Paton has a background in human rights law with a particular focus on the rights of those involved in the criminal justice system and the rights of children and young people. Until appointed as HM Chief Inspector of Prosecution in Scotland, she was a Lead Inspector for HM Inspectorate of Constabulary in Scotland where she inspected the state, efficiency and effectiveness of policing from 2013 to 2019. Ms Paton led inspections of a wide range of policing activity including local policing, custody, crime recording, call handling, firearms licensing and railway policing.

Previously, Ms Paton worked with HM Inspectorate of Prisons (HMIP) in England and Wales providing policy and human rights advice on the independent inspection of prisons and other forms of custody. From 2009 to 2013, Ms Paton was also the first coordinator of the UK's National Preventive Mechanism (NPM), a group of organisations tasked under international law with monitoring all places of detention. Prior to joining HMIP, she worked for the Commissioner for Children and Young People in Scotland, Children 1st and the Children's Legal Centre, where she was editor of a journal of law and policy affecting children and their families.

From 2016 until 2022, Ms Paton served as a trustee of Together, the Scottish Alliance for Children's Rights. She was also Together's Vice Chair from 2020 to 2022. Ms Paton has a First-Class Honours Degree in Scots Law from the University of Glasgow and a LLM in Human Rights Law from Glasgow Graduate School of Law.

Ms Paton's appointment as HM Chief Inspector of Prosecution took effect on 15 November 2019.
Iain Gray, Legal Inspector
Iain joined the Crown Office and Procurator Fiscal Service (COPFS) in 2012 as a trainee working initially in Crown Office in Edinburgh, then EUROJUST in the Hague, and latterly in the Glasgow and Ayr Procurator Fiscal Offices. Following his traineeship Iain worked as a Procurator Fiscal Depute in both Summary and Sheriff & Jury units in Ayr and Kilmarnock. Prior to joining the Inspectorate Iain was in the Road Traffic Fatalities Investigation Unit which involved investigating and prosecuting 'death by driving' cases across Scotland and he was based in Inverness as a Senior Procurator Fiscal Depute. Iain graduated in Scots law and obtained his Diploma in Professional Legal Practice both from the University of Glasgow and has a keen interest in working with a number of charities that tackle issues of injustice, including International Justice Mission, who he continues to volunteer with in his spare time.
Iain joined IPS in March 2021 on secondment from COPFS.
Yolande Love, Assistant Inspector of Prosecution
Yolande graduated in Scots Law from the University of Aberdeen in 1997 and obtained her Post Graduate Diploma in Legal Practice in 1998. She completed her legal traineeship in private practice before establishing her legal career in the public sector.
Yolande spent four years as a solicitor at Renfrewshire Council and dealt with a range of local government matters such as civil litigation, licensing, management of the District Court and providing legal advice to client Council Departments and elected members.
Yolande joined the Crown Office and Procurator Fiscal Service (COPFS) in February 2005, and she has over seventeen years' experience as a prosecutor. Her work as a Procurator Fiscal Depute and Senior Procurator Fiscal Depute has involved operational court work in Initial Case Processing, Summary, and Sheriff and Jury units in Kilmarnock and Airdrie. She developed her experience with specialised casework within High Court Sexual Offences.
Yolande's strong interest in the work of IPS was sparked during a secondment from COPFS as a Legal Inspector in 2017-2020.
Latterly, Yolande worked within the Policy Division at COPFS and led on the development of various prosecution polices and implementation of key government policies within COPFS and prepared advice and briefings for Law Officers and senior management.
After a short period working as a solicitor within the legal team at the Scottish Hospitals Public Inquiry, Yolande joined IPS in July 2023.
Kate Neill, Business Inspector
Kate started her career in the Crown Office and Procurator Fiscal Service in 1986 and worked at the Dumfries, Ayr and Glasgow Procurator Fiscal Offices. She transferred to the Crown Office Internal Audit Unit in September 1994 where she qualified as an internal auditor and worked in that capacity for 12 years. After a short period working with the Scottish Executive Audit Services she joined IPS in July 2005.
Kate is a Chartered Member of the Chartered Institute of Internal Auditors (IIA) UK and a Certified Internal Auditor of IIA Global, an international professional association.
Carolyn Sharp, Personal Assistant to HM Chief Inspector
Carolyn joined Crown Office and Procurator Fiscal Service (COPFS) in January 2002 having previously worked for Glasgow City Council in secretarial and administrative roles. She worked within Glasgow Procurator Fiscal's Office as Fiscal Officer and latterly deputised as PA to Area Procurator Fiscal.
Carolyn joined the IPS in October 2003.